About Our ACW CNC Range
Wickman CNC multispindle lathes incorporate the latest control systems, offering the flexibility to meet the high demands of the turned parts industry. Benefiting from reduced setup times, the ACW CNC range is an efficient and economic solution for manufacturing small to large volumes of moderately complex parts.
Improve Your Productivity
Features & Benefits
Features
All machine specifications available with Siemens 840D and Fanuc 30i control options.
Range Available with up to 28 controllable axes.
Design maintains the rigidity of the WICKMAN conventional cam operated machines.
The flexibility of the modular slide concept and software design, allows the WICKMAN technical team to specify machines to suit the needs of the customer The WICKMAN Technical team can configure the machine to suit the needs of the customer due the flexible software design and slide options available.
Modular slide designs, allow existing users to have their WICKMAN machines converted to meet present machining requirements.
ISO programming.
All machines are equipped with a minimum 18kw main spindle motor with high torque servo motors to meet machining to its maximum capacity.
Improved machine flexibility.
Dramatic reduction in component setting times from the cam operated machine
The ability to machine difficult materials using single point tooling.
Using standard ISO indexable inserts reduces tooling cost.
Benefits
The design of the machine software is very user friendly for non-CNC users. Software is designed to be user friendly for new and experienced CNC users.
Simple ISO programming by channels/paths.
Machine software manages all individual part programmes in automatic cycle. Simple station by station programming that the software brings together during Automatic cycle.
Machine software allows setters to prove out each individual slide in test mode. Each programme can be tested individually by the operator.
Cutting tools are set in each channel/path using tool geometry offsets
Tool wear offset adjustment can be performed on the CNC axes whilst the machine is in production. Through the controls channel/paths.
The machines software generates part programme format, with setters/operators complete the tool movement in each channel/pat. Part programme template which simplifies programming is stored on the machine.
Part programmes can be prepared off-line using Microsoft WordPad and then inserted to the machine by memory stick or via network connection.
Other Wickman Ranges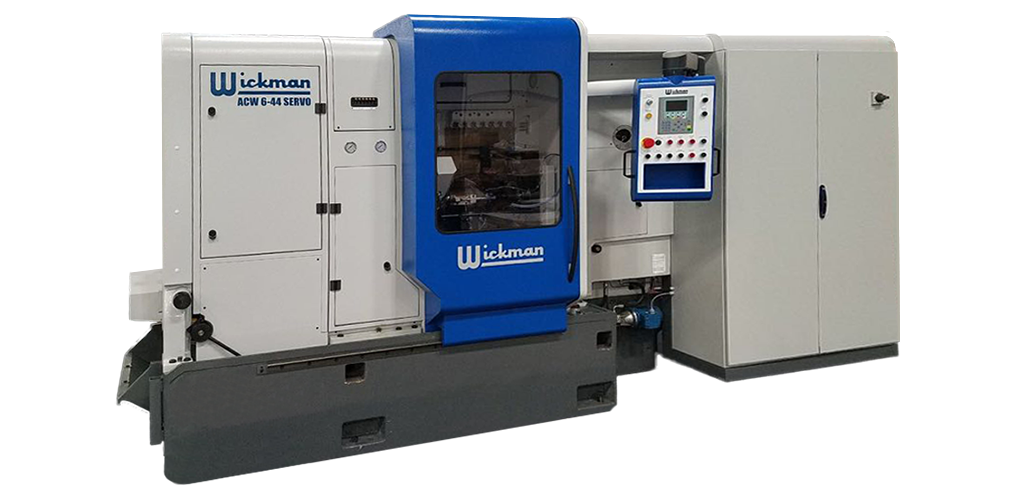 ACW Servo Range
Wickman Servo multispindle lathes enable the user to take advantage of advanced control and AC drive technology without having to undergo intensive re-training of operators and setters. All tooling and attachments used on existing Wickman machines are compatible and interchangeable with our ACW Servo lathes for economic upgrade of legacy equipment.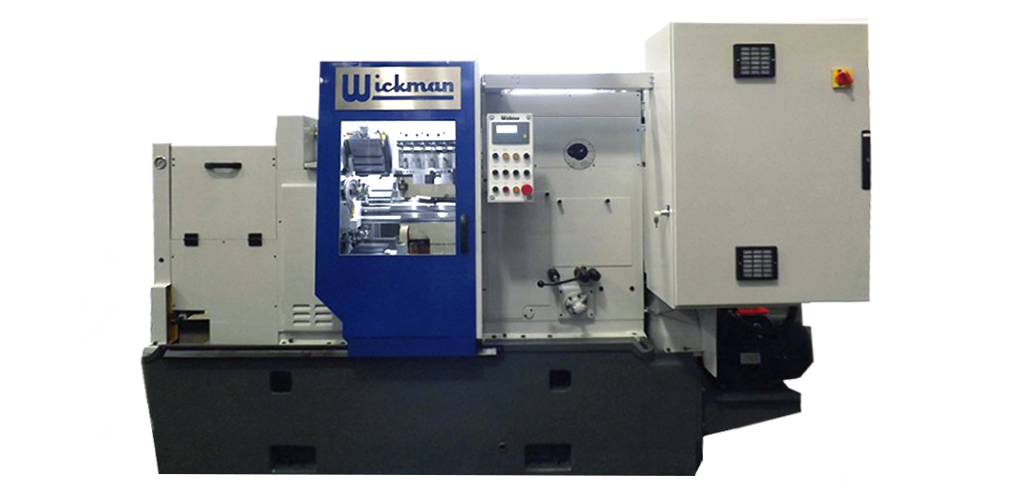 Classic PLC Range
Wickman PLC multispindle lathes are available with a large range of tooling attachments for versatility of machining operations. The machines provide efficient medium to large batch production whilst ensuring consistent accuracy of component. The simplicity of design of the operator panel and progress indication system encourage fast production rates, combined with easy to adjust slides and centreblocks that help to minimise setup and changeover times.