Mori-Say CNC : 6-42 Multispindle Lathe
About The CNC : 6-42 Multispindle Lathe
The Mori-Say TMZ 6-42 CNC offers very high processing flexibility and fast changeover with the ability to drop a variety of complex precision parts complete, as either a bar-fed or chucker operation. Across the spindles, a wide variety of precision metalcutting operations can be accomplished very quickly and without handling
Improve Your Productivity
Features & Benefits
Features
Number of spindles: 6
Maximum diameter of bar stock: 48 mm
Clamping tube bore: 53 mm
Maximum length of bar feeding: 150 mm
Speed range of spindles of AC: 5,000 rpm
Main motor: 7 kW
Idle time: 0.7 sec
Number of frontal slides: 6
Number of compound slides: 5
Benefits
According to tests performed at a technical university in Europe, the Mori-Say TMZ range of machines spindle drive system proved to be superior to other multispindle drive systems.
Very high processing flexibility and fast changeover with the ability to drop a variety of complex precision parts complete, as either a bar-fed or chucker operation.
Across the spindles, a wide variety of precision metalcutting operations can be accomplished very quickly and without handling
The machine's flexibility is provided through its standard features: 6 independent AC-driven CNC horizontal spindles, 6 independent compound slides (X and Z), 6 independent slides with driven tools, 5 back working tools (3 driven), and a wide range of standard presettable VDI tooling for quick changeover to increase flexibility
Additionally up to 5 Y-Axis with up to 185 mm travel allow up to 15 driven tools for radial or frontal drilling, milling, turning or broaching
The machine is provided complete with all options and includes capabilities that make it effective on today's precision machining floors: quick changeover; simple, intuitive programming; single-point presettable driven tooling; quick-change tooling in all positions, and teaching software as well as a standard CAM programming software.
Other Mori-Say Machines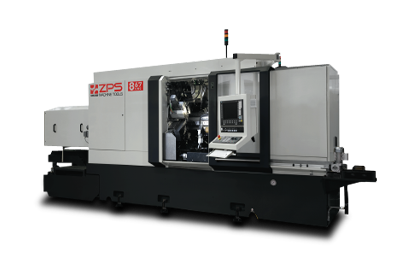 CNC : 8-67 CNC Multispindle
With its cast iron base built to high European standards this machine is the most robust and rigid machine in the market place weighing in at 20 tons. Combined with the highest spindle torque in the industry, this machine can handle the toughest of materials with accurate precision and reliability.